Robotic Palletizer System Utilizing LEWCO Professional Grade Pallet Handling Conveyors
A robotic palletizing integrator needed a pallet handling conveyor system for moving three different size pallets into and out of the palletizing area. After discussing the layout and reviewing the specifications, LEWCO's Professional Grade Pallet Handling Conveyor was the choice. This system included Chain Driven and Poly-V driven live roller conveyor, turntables, powered transfer cars, chain transfers, claw stops, lift truck and conveyor barriers, and 3d model approval drawings.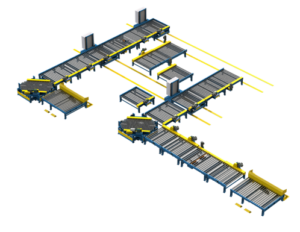 The customer had a very finite window to fit all the equipment including some integration challenges.  LEWCO's Engineering team provided the 3d models for the customer to incorporate into their system layout drawings. After several online meetings to review the details of the project, the drawings were approved.
Because of the detail provided and discussed at outset, and clear definition of the expectations, this system was installed without any trouble.
LEWCO offers a quality product that is cost effective and built to the highest industry standards. Reduction in manual material handling, improved product flow, better ergonomics and elimination of shipping damage are just some of the benefits of a well-designed LEWCO conveyor system.
LEWCO has an extensive amount of experience designing and manufacturing Conveyor Equipment. Our highly knowledgeable staff of Application Engineers can help assess your application and recommend cost effective solutions. You can email your requirements to conveyorsales@lewcoinc.com, call (419) 625-4014 ext.4003, or request a quote on our website.