Large Baler Feed Belt Conveyor from LEWCO, Inc.
LEWCO Inc. recently supplied a baler manufacturer with a Cleated Medium Duty Slider Bed Belt Conveyor.  This customer wanted to add an option to its product line for a conveyor that was integrated into their baler design.  LEWCO Engineers worked closely with the baler company to design the conveyor to be easily installed on the baler. This inclined Cleated Medium Duty Slider Bed Belt Conveyor handles scrap cardboard, which is loaded into an infeed hopper mounted to the conveyor. The conveyor then elevates the cardboard and feeds the baler.
Some of the features of this particular unit include: 48" wide belt, tall guard rails integral with the frame, belt flaps to keep small scrap from getting under the main belt, and built-in lifting eyes to facilitate installation and maintenance.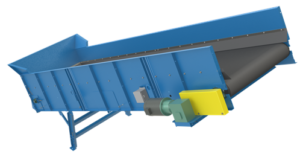 This large Cleated Medium Duty Slider Bed Conveyor is just one example of the conveyors LEWCO has to offer for a wide variety of applications.
LEWCO offers a quality product that is cost effective and built to the highest industry standards. Reduction in manual material handling, improved product flow, better ergonomics and elimination of shipping damage are just some of the benefits of a well-designed LEWCO conveyor system.
LEWCO has an extensive amount of experience designing and manufacturing Conveyor Equipment. Our highly knowledgeable staff of Application Engineers can help assess your application and recommend cost effective solutions. You can email your requirements to conveyorsales@lewcoinc.com, call (419) 625-4014 ext.4003, or request a quote on our website.