LEWCO Stacker / Destacker
LEWCO recently supplied a reusable container manufacturer with a pallet stacker/destacker. The manufacturer wanted to reduce fork truck traffic and also accumulate pallets.  In stack mode, the pallets come out of a press one at a time, and are conveyed into the stacker on a Multi Strand Chain Conveyor. Once a stack of eight is built, it is lowered and conveyed to the end where a fork truck driver takes away the full stack. This system can also run in reverse where a stack of eight pallets is loaded onto the conveyor and sent in to be destacked.  In destack mode the equipment will set one pallet at a time onto the conveyor and release it.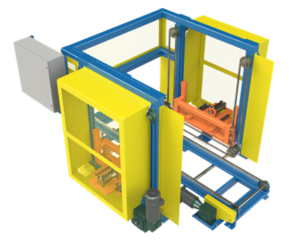 With this design, settings can be adjusted to accommodate various pallet heights, should your needs change over time.  It can be used to stack or destack containers or bins as well.
This stacker/destacker is just one example of the products LEWCO has to offer for a wide variety of applications.  LEWCO Application Engineers can help you determine what equipment best fits your application, so we can exceed your expectations too!
LEWCO offers a quality product that is cost effective and built to the highest industry standards. Reduction in manual material handling, improved product flow, better ergonomics and elimination of shipping damage are just some of the benefits of a well-designed LEWCO conveyor system.
LEWCO has an extensive amount of experience designing and manufacturing Conveyor Equipment. Our highly knowledgeable staff of Application Engineers can help assess your application and recommend cost effective solutions. You can email your requirements to conveyorsales@lewcoinc.com, call (419) 625-4014 ext.4003, or request a quote on our website.