Centering Belts and Reject Paddle Featured in Process Line
The manufacture of insulation rolls and bats is among the many diversified industries using LEWCO equipment.  Recent units built for a customer serving this industry included conveyors for three process lines.  Among the custom individual units were modular plastic belt conveyors, product reject paddles, and powered centering belts.  A portion of one process line is shown at right.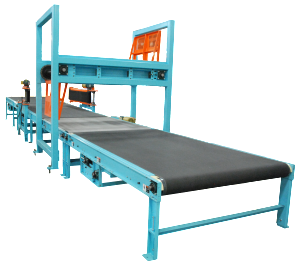 Each product reject paddle was mounted overhead, and was designed to sweep 40 lb. products off the side of the main process line at a rate of up to 20 per minute.  Special guide bearings were used to counter thrust loads and ensure long life.  Additional area guarding was added by the end user during installation.
The powered centering belts were designed to eliminate the product drag and potential rotation that would occur on a static face guide rail.  They ran at the same speed as the process line to gently center the product.  The centering belts were mounted on pivots at the infeed end, allowing the exit opening to be manually adjustable to accommodate various product types.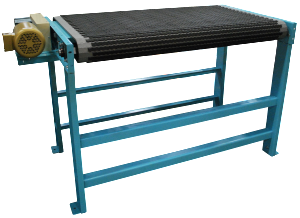 At left is one of the short wide modular plastic belt conveyors built for this customer.
LEWCO offers a quality product that is cost effective and built to the highest industry standards. Reduction in manual material handling, improved product flow, better ergonomics and elimination of shipping damage are just some of the benefits of a well-designed LEWCO conveyor system.
LEWCO has an extensive amount of experience designing and manufacturing Conveyor Equipment. Our highly knowledgeable staff of Application Engineers can help assess your application and recommend cost effective solutions. You can email your requirements to conveyorsales@lewcoinc.com, call (419) 625-4014 ext.4003, or request a quote on our website.