Here's a problem solver. The skewed roller conveyor will move product to one side, edge-aligning it and squaring it up at the same time. The chain box is capped with UHMW to allow the product to slide against it with reduced friction. Rollers are chain driven for positive drive.
Also present on this unit is a pneumatically actuated turning post, or "bump turn." This post, when combined with the skewed rollers, will rotate the product 90 degrees and re-align it to the side. The pneumatic cylinder allows it to be disengaged when product does not need to be rotated.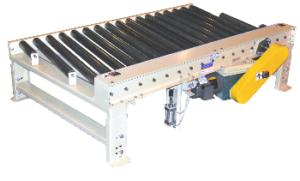 LEWCO offers a quality product that is cost effective and built to the highest industry standards. Reduction in manual material handling, improved product flow, better ergonomics and elimination of shipping damage are just some of the benefits of a well-designed LEWCO conveyor system.
LEWCO has an extensive amount of experience designing and manufacturing Conveyor Equipment. Our highly knowledgeable staff of Application Engineers can help assess your application and recommend cost effective solutions. You can email your requirements to conveyorsales@lewcoinc.com, call (419) 625-4014 ext.4003, or request a quote on our website.