Powered Rotating Turntable with Powered Conveyors
LEWCO's Powered Rotating Turntable or PP360 features a full 360° powered rotation giving you the flexibility to change direction at any degree required within your Pallet Handling System.  A heavy duty deck construction allows for a steady transfer while maintaining your pallet orientation.  This unit is ideal for heavy duty applications requiring powered rotation.  LEWCO's PP360 can be fitted with various styles of powered conveyor such as: Chain Driven Live Roller or Multi-Strand Chain.
LEWCO's Chain Driven Live Roller, with its rugged construction is the standard choice for every day pallet handling needs. This system combines the speed and power of LEWCO's Chain Driven Live Roller Conveyor with LEWCO's Powered Rotating Turntable, providing an excellent combination for your pallet handing needs. The Multi-Strand Chain Conveyor is another excellent option with our Powered Rotating Turntable. This drag chain conveyor is typically used for pallets with bottom configurations not conveyable on roller conveyors. Each option is effective and efficient in meeting your pallet handling needs.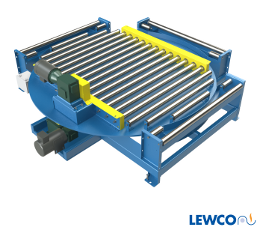 LEWCO offers a quality product that is cost effective and built to the highest industry standards. Reduction in manual material handling, improved product flow, better ergonomics and elimination of shipping damage are just some of the benefits of a well-designed LEWCO conveyor system.
LEWCO has an extensive amount of experience designing and manufacturing Conveyor Equipment. Our highly knowledgeable staff of Application Engineers can help assess your application and recommend cost effective solutions. You can email your requirements to conveyorsales@lewcoinc.com, call (419) 625-4014 ext.4003, or request a quote on our website.