Chain Transfer Conveyor in a Pallet Handling System
LEWCO's Chain Transfer Conveyor is a chain roller conveyor with integral, pneumatic, actuated pop-up chain transfer capable of handling up to 4,000 pound loads. The ability to transfer pallets and containers in a different direction is a key component in Pallet Handling Systems, therefore making Chain Transfer Conveyors essential in your everyday Pallet Handling needs.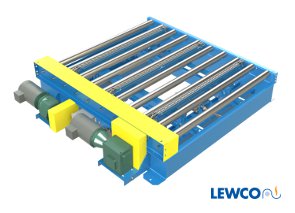 Transfer chains are kept within the effective width of the Chain Driven Live Roller Conveyors. Our Internal, rugged, designed Transfer is ideal for transferring pallets and containers with bottoms capable of conveying at right angles over the traditional gap that exists because of the conveyor side frame rail. Another option, our External designed Transfer is useful for transferring pallets and containers where pallet bottom conditions require minimal gaps in order to convey.
LEWCO offers a quality product that is cost effective and built to the highest industry standards. Reduction in manual material handling, improved product flow, better ergonomics and elimination of shipping damage are just some of the benefits of a well-designed LEWCO conveyor system.
LEWCO has an extensive amount of experience designing and manufacturing Conveyor Equipment. Our highly knowledgeable staff of Application Engineers can help assess your application and recommend cost effective solutions. You can email your requirements to conveyorsales@lewcoinc.com, call (419) 625-4014 ext.4003, or request a quote on our website.