LEWCO Provides Carburizing Furnace Conveyor System
Standard LEWCO conveyor can be modified to handle high temperature products such as those typically needed for carburizing furnace feed and takeaway conveyor systems. In a recent order, LEWCO's standard chain driven live roller conveyor, right angle chain transfers and gravity roller conveyors were adapted for this application by adding radiant heat shields, high temperature bearings, conveyor drip pans, and remote manifold grease systems as part of our extensive non-standard feature functionality.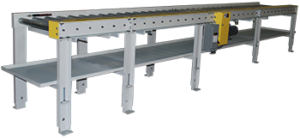 By adding these non-standard features, the conveyor could handle the 650 degree Fahrenheit product weighing up to 750 pounds. LEWCO mounted and wired the product sensors, junction boxes, and disconnects for this customer. By working with the customer throughout the design process using remote design review meetings, the customers' expectations were met and modifications during the approval process were held to a minimum through improved communication.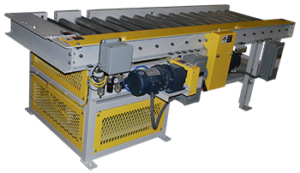 LEWCO offers a quality product that is cost effective and built to the highest industry standards. Reduction in manual material handling, improved product flow, better ergonomics and elimination of shipping damage are just some of the benefits of a well-designed LEWCO conveyor system.
LEWCO has an extensive amount of experience designing and manufacturing Conveyor Equipment. Our highly knowledgeable staff of Application Engineers can help assess your application and recommend cost effective solutions. You can email your requirements to conveyorsales@lewcoinc.com, call (419) 625-4014 ext.4003, or request a quote on our website.