High Temperature Wire Mesh Belt Conveyor
LEWCO manufactures Wire Mesh Belt Conveyors for industrial heating applications. In a recent order, LEWCO supplied a powder coat facility in Alabama a high temperature wire mesh belt conveyor. The application required the conveyor to be inside of an infrared (IR) oven, baking light weight powder coated parts for a specific cure requirement. The conveyor had to withstand temperatures up to 400 degree Fahrenheit inside the oven, while running at speeds from 2 – 12 feet per minute.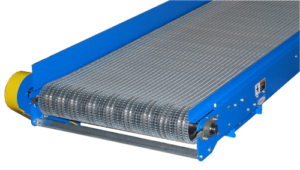 This conveyor is just one example of modular wire mesh belt conveyors LEWCO has to offer for a wide variety of high temperature applications. Besides powder coating applications, LEWCO's high temperature wire mesh belt conveyors can be used in a variety of other oven and high temperature applications. Using a flat wire mesh belt, the belting tracking is positive and guided by a series of sprockets on the head and tail shaft. Positive tracking allows wide width to length ratios typically not possible with other types of conveyor belts.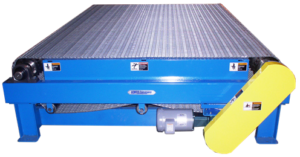 LEWCO Application Engineers can help you determine the belting and the design requirements for your application, which will exceed your expectations too!
LEWCO offers a quality product that is cost effective and built to the highest industry standards. Reduction in manual material handling, improved product flow, better ergonomics and elimination of shipping damage are just some of the benefits of a well-designed LEWCO conveyor system.
LEWCO has an extensive amount of experience designing and manufacturing Conveyor Equipment. Our highly knowledgeable staff of Application Engineers can help assess your application and recommend cost effective solutions. You can email your requirements to conveyorsales@lewcoinc.com, call (419) 625-4014 ext.4003, or request a quote on our website.