LEWCO Product Spotlight Featuring: Slat & Steel Hinge Conveyor
Slat Conveyors are used in horizontal conditions and operating at relatively slow speeds. They are generally used to move items that are not typically conveyable on rollers or belts, due to an irregular shape or bottom condition. They can also be used in assembly operations by modifying the slats to accommodate assembly fixtures.
Steel Hinge Belt Conveyors can be used in rugged applications handling scrap metal, metal chips, stampings, forgings, fasteners, die cast parts and castings.  Steel Hinge Belts Conveyor permit a continuous operation, whether it is on an incline, decline or is level, which minimizes downtime even in the most demanding wet and dry conditions.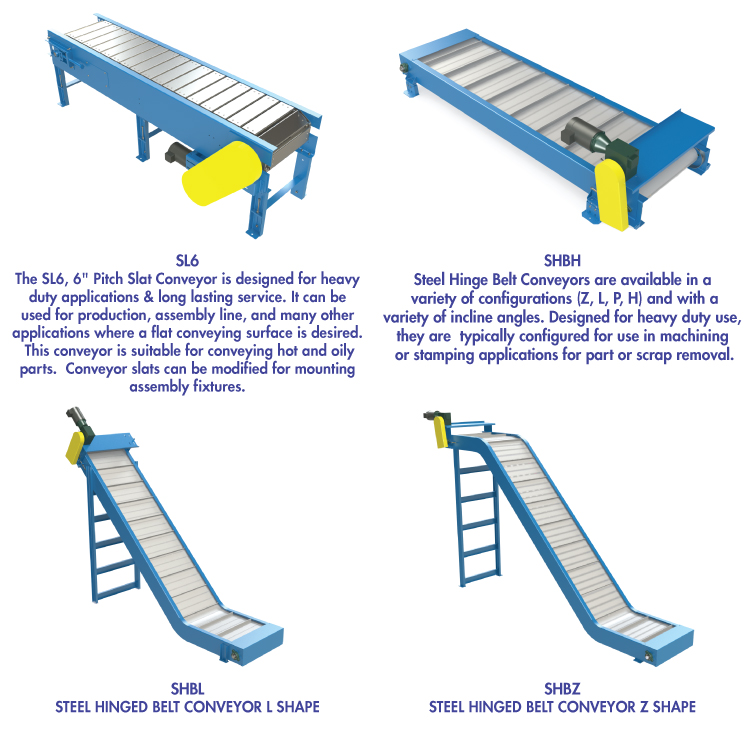 Application:

Slat Conveyor:

• Non-Contact Accumulation

• Zone Based with fixtures

• Pallet loads with bottoms not suitable for roller or chain conveyor

• Dirty, oily wet loads

Steel Hinge Belt:

• Steel scraps and chips

• Dirty, oily wet parts

• CNC machines

• Press Room

Where it Works:

• Warehousing & Distribution

• Manufacturing

• Government Military & Agency

• Automotive

• Appliance

• Cabinetry & Furniture
LEWCO offers a quality product that is cost effective and built to the highest industry standards. Reduction in manual material handling, improved product flow, better ergonomics and elimination of shipping damage are just some of the benefits of a well-designed LEWCO conveyor system.
LEWCO has an extensive amount of experience designing and manufacturing Conveyor Equipment. Our highly knowledgeable staff of Application Engineers can help assess your application and recommend cost effective solutions. You can email your requirements to conveyorsales@lewcoinc.com, call (419) 625-4014 ext.4003, or request a quote on our website.