LEWCO Heavy Duty MSCCH and CDLR
Model MSCCH is a heavy duty version of the LEWCO standard multi-strand chain conveyor, still considered a drag chain conveyor however it incorporates C80 roller chain and 4 gage welded chain strand construction for extreme applications.  In this application C2080 (double pitch) chain was used, so that attachments could be bolted to the chain to create zones.
Model CDLR35 is the most robust conveyor of the LEWCO standard CDLR series. The 3-1/2″ o.d. x .300 wall, high capacity rollers, and standard structural channel frames, are suitable for heavy loads, and the most abusive industrial applications around.  Here we used 7″ o.d. rollers so that the chain box would be below the roller surface, making a smooth transition for the round stock product.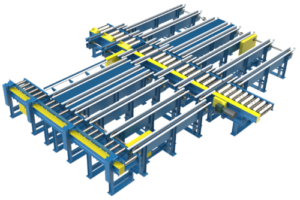 LEWCO recently helped a customer who handles round bar stock, feeding two different saws.  Bars are 2″ to 16″ diameter, up to 4000 lbs. each, 36" to 20'-0" long, with an infinite variety of lengths.  Bars are conveyed in from outdoors on the central infeed CDLR (chain driven live roller) conveyor, then shifted left or right to fill the multi-strand chain conveyors with up to 40,000 lbs. each.  This is staging for a full work shift of sawing.  Parts are kept separated by dogs on the chain.
One side of the multi-strand chain conveyor is designed to accept 12′ and shorter parts, the other side accepts all parts.  12′ and shorter parts going left or right stop against a heavy duty pop-up stop.  Longer parts stop against a customer-provided floor mounted fixed stop located 24″ off the end of the infeed conveyor.  All parts within a dog "zone" on the left chain conveyor will transfer onto the CDLR feed conveyor, and be conveyed into a saw.  Longer parts on the other chain conveyor will be removed by crane and placed on a different saw.
LEWCO set up and tested this system in-house with customer supplied product, using temporary manual controls.  This helped to ensure a trouble-free startup onsite, and demonstrate the functionality to the customer.  LEWCO has a dedicated test area for such set-ups; consider this option when ordering complex or custom equipment.
LEWCO offers a quality product that is cost effective and built to the highest industry standards. Reduction in manual material handling, improved product flow, better ergonomics and elimination of shipping damage are just some of the benefits of a well-designed LEWCO conveyor system.
LEWCO has an extensive amount of experience designing and manufacturing Conveyor Equipment. Our highly knowledgeable staff of Application Engineers can help assess your application and recommend cost effective solutions. You can email your requirements to conveyorsales@lewcoinc.com, call (419) 625-4014 ext.4003, or request a quote on our website.