LEWCO 1916 Transfer Car & Gravity Conveyor
LEWCO Model TC1916 medium duty manual transfer cars allow product to be moved from one lane to another parallel lane within a system. These units are fixed to a set of tracks which facilitate easy movement and positioning in front on the lanes to be loaded or unloaded from the car.
LEWCO 1.9″ Diameter 16 ga. Gravity Roller Conveyors are ideal for applications that require an economical, non-powered means for conveying material. This medium duty conveyor easily flows product with minimal slope and is used to convey a wide array of products and packages.
LEWCO recently supplied an aluminum window frame manufacturer with custom manual transfer cars using 1.9″ diameter 16 gauge rollers, capable of transferring 50 pound frames to multiple lanes of standard 1.9″ diameter 16 gauge gravity roller conveyor. The product conveys down a single lane of gravity roller conveyor from the build line, transfers onto the cart, and be distributed amongst multiple adjacent lanes. This equipment has allowed the facility to stage product in multiple lanes, allowing them to be more efficient and productive.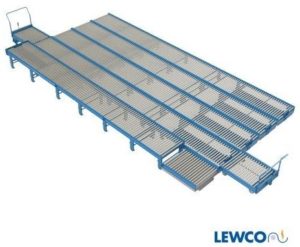 LEWCO offers a quality product that is cost effective and built to the highest industry standards. Reduction in manual material handling, improved product flow, better ergonomics and elimination of shipping damage are just some of the benefits of a well-designed LEWCO conveyor system.
LEWCO has an extensive amount of experience designing and manufacturing Conveyor Equipment. Our highly knowledgeable staff of Application Engineers can help assess your application and recommend cost effective solutions. You can email your requirements to conveyorsales@lewcoinc.com, call (419) 625-4014 ext.4003, or request a quote on our website.