LEWCO CDLR25 and Chain Transfer Loop
LEWCO CDLR25 chain driven live roller conveyor (2.5" dia. x 11ga. wall) is the standard choice for everyday pallet handling.  Its rugged construction is well suited for loaded pallets, drums, and containers.  This system uses a combination of powered roller conveyor and powered chain transfers.  The standard T03C25 chain transfers shown in the corners below are pneumatic and have a capacity of 4,000 lbs.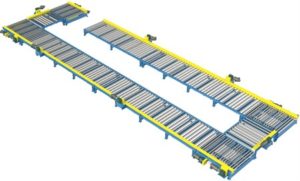 LEWCO recently provided an automotive supplier with a CDLR25 chain driven live roller conveyor and chain transfer loop to fill plastic containers with a maximum full weight of 2,000 lbs. The containers are 45" wide x 48" long with flat bottoms. The application requires empty containers to be loaded on one end of the loop, allowing operators to fill the containers as they travel around the loop. Once the container completes the loop it is removed via a fork truck. By utilizing CDLR25 chain driven live roller conveyor and the T03C25 chain transfers, the operators can easily fill the containers from the side while they are conveyed around the loop.
This powered loop system is just one example of the conveyors LEWCO has to offer for a wide variety of applications.
LEWCO offers a quality product that is cost effective and built to the highest industry standards. Reduction in manual material handling, improved product flow, better ergonomics and elimination of shipping damage are just some of the benefits of a well-designed LEWCO conveyor system.
LEWCO has an extensive amount of experience designing and manufacturing Conveyor Equipment. Our highly knowledgeable staff of Application Engineers can help assess your application and recommend cost effective solutions. You can email your requirements to conveyorsales@lewcoinc.com, call (419) 625-4014 ext.4003, or request a quote on our website.