Heavy Duty Buffer Cell by LEWCO, Inc.
This system uses a combination of gravity roller conveyor, powered roller conveyor, and powered chain transfers.  Conveyors are sized for a robust solution, using 2607 gravity lanes (2.6" dia x 7ga wall), and wide CDLR35 chain driven roller conveyor (3.5" dia x .300" wall).  Heavy duty escapements comprised of pneumatic claw stops and RBB roller brakes are used to release one rack at a time on the sloped gravity lanes.  Pneumatic Pop-Up Chain Transfers bring the racks onto / off of the CDLR35.  These are custom chain transfers, but similar to our standard T02C25 units.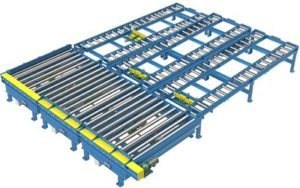 Process requirements at an axle manufacturer led them to LEWCO, where a custom rack buffer system was developed.
Steel racks of axle housings are dropped off by fork lift onto sloped gravity conveyors, and moved to CDLR via powered chain transfers.  Once in position, an operator unloads the axle housings one at a time into a process machine.  When empty, the rack is powered sideways to the corner zone, where finished parts are re-loaded into the rack.  After it is full, another chain transfer drives the rack off onto sloped gravity, where it is picked up by fork lift.  The gravity lanes feature pneumatic stops and escapements to singulate racks.  Racks are 48″x72″, weighing 700 lbs each.
Proximity sensors for the chain transfers were shop mounted and wired to junction boxes by LEWCO.
LEWCO offers a quality product that is cost effective and built to the highest industry standards. Reduction in manual material handling, improved product flow, better ergonomics and elimination of shipping damage are just some of the benefits of a well-designed LEWCO conveyor system.
LEWCO has an extensive amount of experience designing and manufacturing Conveyor Equipment. Our highly knowledgeable staff of Application Engineers can help assess your application and recommend cost effective solutions. You can email your requirements to conveyorsales@lewcoinc.com, call (419) 625-4014 ext.4003, or request a quote on our website.