Improvements to LEWCO CDLR, Chain Driven Live Roller Conveyors
LEWCO Inc. has recently updated the standards which define our CDLR25 and CDLR26 models, increasing their durability while maintaining our competitive cost advantage. The improvements fall into (3) categories which are drive, frame and support improvements.
DRIVE –In certain drive configurations, customers had reported issues with the rigidity of the drive mounting platform. By careful review and consideration of the "Voice of the Customer", we've created (3) universal drive configurations that will suit 95% of the applications requested by our customers. DRIVE MOUNTED HIGH will become the new standard, with DRIVE MOUNTED LOW and DRIVE MOUNTED BELOW as alternatives.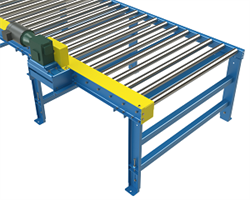 Drive Mounted High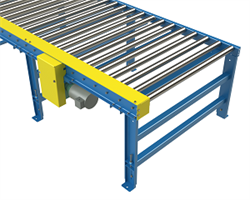 Drive Mounted Low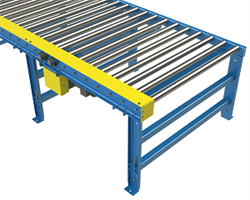 Drive Mounted Below
These drives will now be placed as close to the center of the conveyor as practical, eliminating the need for customer to attempt to specify right, left, center, etc.  Each drive configuration will now incorporate precision, flange bearing mounted drive rollers with live axles as opposed to the typical tread rollers with bearings pressed inside the roller tubes.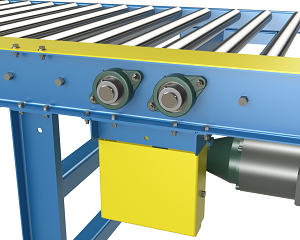 Another improvement that resulted from listening to our customers, the new drive designs have simplified the way chain guards are mounted, thereby reducing the number of fasteners required to remove for maintenance. In addition, special attention was given to fastener sizes to reduce the number of wrenches required to maintain the product.
FRAME – Two important improvements have been made to the CDLR25 and CDLR26 conveyor frames:
First, the thickness of steel used for the chain box covers has been increased to 10 gage steel. Due to the nature of the chain roller conveyor product, pallets and containers will make occasional contact against the chain box edges and have the potential for jamming. Using the thicker material and also converting to a (2) piece guard design has improved performance.  Chain box covers are now painted yellow as standard.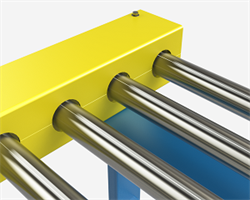 Second, the connection between sections has been improved from a bolted on connector to a welded, end channel connector (Butt Coupler) for improved rigidity.  In these connector plates, we've included access holes to allow wire and/or air line to pass through from section to section, improving the final installation.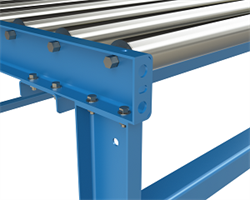 SUPPORTS – The new CDLR25 and CDLR26 models have improved welded supports that are much more rigid and easily adjustable.The support assembly is infinitely adjustable within a 6" range by using a jack bolt adjustment device.  This also speeds up installation and conveyor leveling.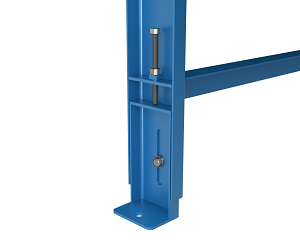 As always, customized solutions are available from LEWCO, Inc., since the standards shown above will not fit every situation.
LEWCO offers a quality product that is cost effective and built to the highest industry standards. Reduction in manual material handling, improved product flow, better ergonomics and elimination of shipping damage are just some of the benefits of a well-designed LEWCO conveyor system.
LEWCO has an extensive amount of experience designing and manufacturing Conveyor Equipment. Our highly knowledgeable staff of Application Engineers can help assess your application and recommend cost effective solutions. You can email your requirements to conveyorsales@lewcoinc.com, call (419) 625-4014 ext.4003, or request a quote on our website.