LEWCO Multi-Strand Chain Conveyor
LEWCO has the ability to mix and match multiple components to fulfill all your pallet/container handling needs. The Multi-Strand Chain Conveyor is another excellent option in a Pallet Handling System.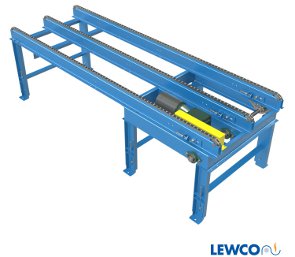 Sometimes called drag chain conveyor, it is typically used for pallets with bottom configurations not conveyable on roller conveyors. This design is suitable for harsh environments because of the low number of moving component parts and limited amount of required maintenance.
The formed and welded steel channel frames, supported by LEWCO SPJ jack bolt supports, provide the robust construction needed for pallet handling. Multi-Strand Chain Conveyors can be configured in 2, 3, or 4 strands as standard and incorporate C60 or C80 roller chain guided by UHMW or carbon steel track.
LEWCO offers a quality product that is cost effective and built to the highest industry standards. Reduction in manual material handling, improved product flow, better ergonomics and elimination of shipping damage are just some of the benefits of a well-designed LEWCO conveyor system.
LEWCO has an extensive amount of experience designing and manufacturing Conveyor Equipment. Our highly knowledgeable staff of Application Engineers can help assess your application and recommend cost effective solutions. You can email your requirements to conveyorsales@lewcoinc.com, call (419) 625-4014 ext.4003, or request a quote on our website.