LEWCO Small Parcel RED Conveyor
LEWCO recently provided an integrator with a series of conveyors from our LEWCO RED line which is specifically designed for the Retail E-commerce Distribution industries.
These units are part of an automated hub for a popular parcel handling service and were designed to handle packages that are too small to be safely conveyed by the standard sortation system.  "Smalls", as they are commonly referred to, are packages that are too small to be conveyed individually so they are combined into bags with other packages that are routed to the same location.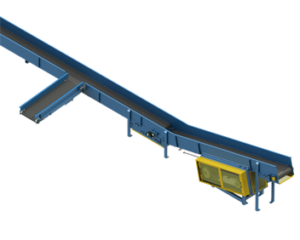 The "Smalls" Primary/Secondary sortation system that LEWCO provided is a series of cascading belt conveyors that begins with the Primary Feed unit that transports small parcels to individual destination chutes, where they will be bagged.  These belt conveyors were designed to carry between 4,000 – 6,000 PPH to the "Smalls" sort area with the belt traveling at 200 FPM.  Once the small parcels reach the designated Primary Sort chute, a powered diverter guides the parcel off the belt and into the chute where an operator is stationed for manual sorting.  These robust conveyors were designed to handle the high flow rate of packages and the repetitive motion of the divert arms.
If the parcel enters the wrong sort area, the operator sends it back into the system via the Secondary Feed conveyor which is located directly below the Primary Feed.  These units were designed to handle the constant side loading while traveling at much slower speeds.  The packages are presented to the Secondary by using the Transverse Feed conveyor which is located under the Sort chute.  These specially designed units incorporate a low profile to accommodate the minimal space available.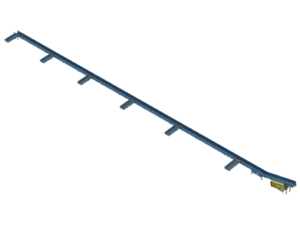 It is crucial that all items transfer/merge onto each conveyor successfully without any jams to eliminate the possibility of damaged or missing parcels.  These units were designed with that in mind and incorporate special features to maintain the close transfer positions required for the small package sizes.
LEWCO offers a quality product that is cost effective and built to the highest industry standards. Reduction in manual material handling, improved product flow, better ergonomics and elimination of shipping damage are just some of the benefits of a well-designed LEWCO conveyor system.
LEWCO has an extensive amount of experience designing and manufacturing Conveyor Equipment. Our highly knowledgeable staff of Application Engineers can help assess your application and recommend cost effective solutions. You can email your requirements to conveyorsales@lewcoinc.com, call (419) 625-4014 ext.4003, or request a quote on our website.