LEWCO Parcel Handling Belt Conveyor
LEWCO has extensive experience designing and manufacturing equipment for 

etail 

-commerce 

istribution industries.

As a FedEx Ground Approved Supplier, LEWCO recently supplied one of their Major Integrators with slider bed belt conveyors as part of a larger parcel handling system.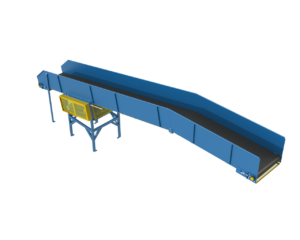 These units were provided as part of the Unload Lanes located at each dock door where full trucks deliver their loads.  The unload area consists of sixteen of our welded belt conveyors that were designed to meet FedEx specifications and needs within their facilities.
An operator places each package onto a gravity roller conveyor that feeds LEWCO belt conveyors that are traveling at speeds of 120 feet per minute. The slider beds is inclined approximately 11 degrees until they reach the desired elevation before leveling out for the remaining 9 feet of run, where they are fed onto other conveyors that transport them through the sortation system.
24 inch high welded guardrail prevents parcels from falling off the units, and the operators are protected from injury with the full length bottom guards eliminating gaps and pinch points, per FedEx Ground Specifications.
Parcel Handling Conveyor Components:
Center Drive Section

Intermediate Bed Sections

 

Tail Sections

Side Pans (Guardrail)
For more information on Lewco 

 click here.
LEWCO offers a quality product that is cost effective and built to the highest industry standards. Reduction in manual material handling, improved product flow, better ergonomics and elimination of shipping damage are just some of the benefits of a well-designed LEWCO conveyor system.

LEWCO has an extensive amount of experience designing and manufacturing Conveyor Equipment. Our highly knowledgeable staff of Application Engineers can help assess your application and recommend cost effective solutions. You can email your requirements to conveyorsales@lewcoinc.com, call (419) 625-4014 ext.4003, or request a quote on our website.