LEWCO Custom Pin Escapement and Modular Plastic Belting Conveyor
A budget and floor space restricted opportunity was presented to LEWCO by one of our integrators. The customer needed to convey two different sizes of round metal products in an alternating release to the next operation. LEWCO always recommends powered conveyors in any automatic process, but the customer was unable to justify a powered conveyor. Initially, the infeed conveyors were over each other with a drop gate to feed the take-away conveyor. Because the product is round and the available time to fully test this layout here prior to shipment, the customer selected the lower cost for a non-powered side by side infeed conveyors, with escapements, and a powered belt take-away conveyor.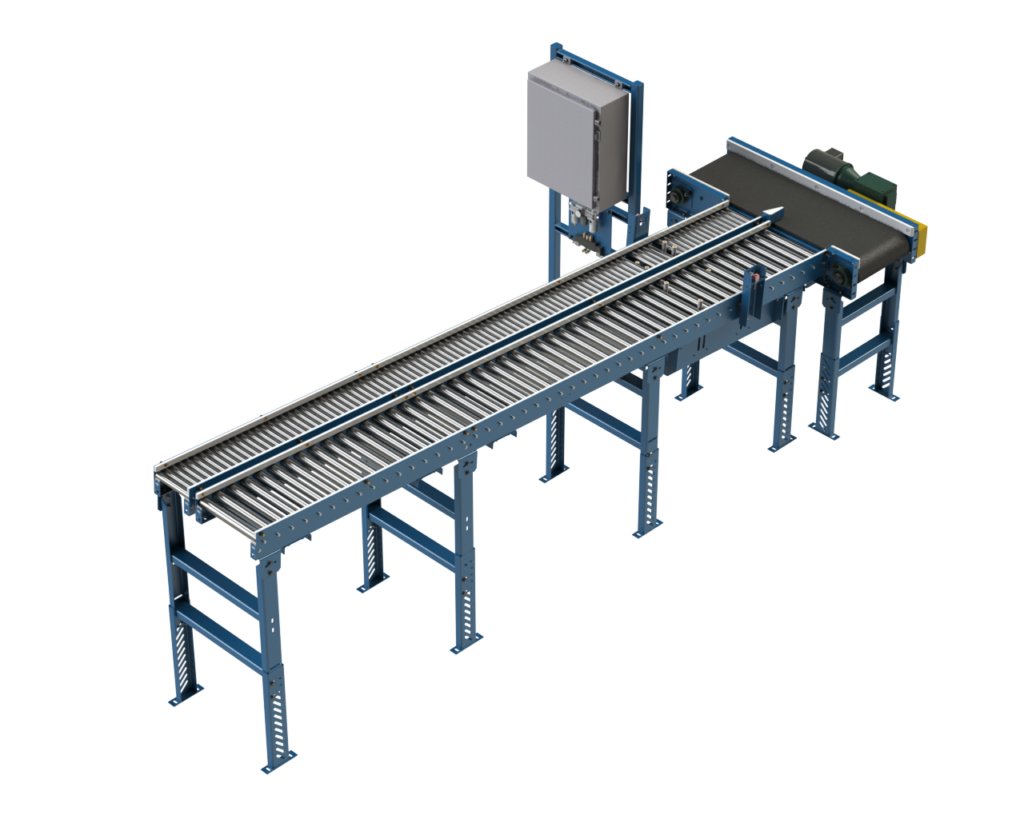 Considering that an operator is nearby, the customer accepted the solution, knowing that the gravity conveyor will occasionally need manual intervention for product movement. The custom-built pin style escapement functions well because of the round product. The limited, but continuous, chimed bottom rounded product contact surface, facilitated the ability to perform at a repetitive and consistent basis at the transition. After a bit of trial and error, the elevations of the infeed non-powered conveyor was able to be determined. With the takeaway conveyor being an impact-resistant modular plastic belt conveyor, the transition from the non-powered to powered conveyor was also able to be repeated.
[embedyt] https://youtu.be/ne8tMJkzChA [/embedyt]
By investing a little more in the set-up and testing of the conveyor on the front end, it greatly reduced the time required for the installation of the conveyor in the customers manufacturing plant.
LEWCO offers a quality product that is cost effective and built to the highest industry standards. Reduction in manual material handling, improved product flow, better ergonomics and elimination of shipping damage are just some of the benefits of a well-designed LEWCO conveyor system.
LEWCO has an extensive amount of experience designing and manufacturing Conveyor Equipment. Our highly knowledgeable staff of Application Engineers can help assess your application and recommend cost effective solutions. You can email your requirements to conveyorsales@lewcoinc.com, call (419) 625-4014 ext.4003, or request a quote on our website.