LEWCO Custom Over/Under with Powered Chain Driven Live Roller Conveyor and Lift Table
LEWCO recently provided a rear axle assembly manufacturer with an over under system to store and fill empty shipping racks. The shipping racks are loaded on the top level empty, when the operator needs an empty rack they push a button and the scissor lift raises up. Once the lift is all the way up to the upper level it releases a stop and the rack is conveyed onto the conveyor on the scissor lift. The scissor lift then lowers the rack down so the operator can fill the rack with completed rear end. Once the rack is full the operator pushes the button to send the rack to the discharge end and the rack is sent to the lower level where it will be unloaded via a fork truck.
This over under system is just one example of the conveyors LEWCO has to offer for a wide variety of applications.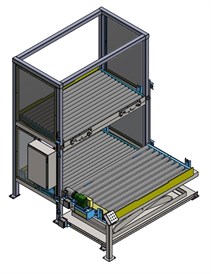 LEWCO offers a quality product that is cost effective and built to the highest industry standards. Reduction in manual material handling, improved product flow, better ergonomics and elimination of shipping damage are just some of the benefits of a well-designed LEWCO conveyor system.
LEWCO has an extensive amount of experience designing and manufacturing Conveyor Equipment. Our highly knowledgeable staff of Application Engineers can help assess your application and recommend cost effective solutions. You can email your requirements to conveyorsales@lewcoinc.com, call (419) 625-4014 ext.4003, or request a quote on our website.