Introducing the New Semi Precision A15 Bearing Option for 1.9 Diameter, 16 Gage Rollers
LEWCO's new semi-precision bearing option A15, is now available as standard option for all product lines utilizing a 1.9 diameter, 16 gage roller including 1916 straight gravity conveyors, 1916C gravity roller curves, 1916S gravity spur conveyors, HG1916 spring loaded gate conveyors and finally R1916 loose rollers.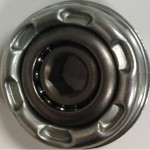 This bearing is a considerable improvement over the commercial A10 bearings offered in the past by LEWCO and currently standard by LEWCO's competitors. The new standard bearing offers several notable advantages:
Capacity: The load rating is increased to 300 pounds from 135 pounds capacity for previous standard bearing.
Sound: The noise level of the bearing turning at 500 RPM is reduced to 66 dBA compared to 74 dBA for the old standard, significantly quieter.
Speed Rating: The bearing is capable of turning at 1500 RPM, theoretically can be powered where the old standard was only adequate for gravity applications.
Torque: The starting torque is significantly lower thus allowing personnel to move heavier loads with less force
Value: Same competitive price with all the benefits outlined above! 
LEWCO offers a quality product that is cost effective and built to the highest industry standards. Reduction in manual material handling, improved product flow, better ergonomics and elimination of shipping damage are just some of the benefits of a well-designed LEWCO conveyor system.
LEWCO has an extensive amount of experience designing and manufacturing Conveyor Equipment. Our highly knowledgeable staff of Application Engineers can help assess your application and recommend cost effective solutions. You can email your requirements to conveyorsales@lewcoinc.com, call (419) 625-4014 ext.4003, or request a quote on our website.