Chain Transfer Development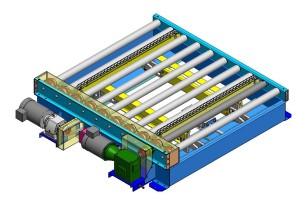 LEWCO released a new series of Right Angle Transfer Conveyors designed to improve performance by establishing standard configurations where right angle transfer is necessary within Chain Driven Roller Conveyors (CDLR). The transfers are available in either 1,500 pound or 4,000 pound models specifically well suited for pallet and container handling systems. Each model is designed for 12" top of roller elevation and can have unlimited positioning of up to (4) chain strands of C60, flat pitch roller chain.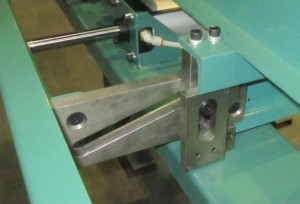 The robust design of LEWCO's Right Angle Transfer Conveyors is unique being it uses a cam actuated lift device which provides for smooth, positive, and even lift of the chain strands. This design is superior to the common air bag type lift whereby the corners can lift uneven especially when loads are not exactly centered on the conveyors effective width. Safety is another key advantage of the cam lift transfer being it can maintain a raised position even when air pressure is lost, again a feature not possible with air bag type lifts.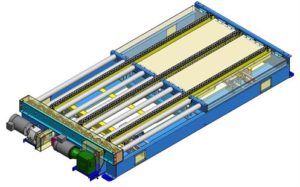 The NEW series transfers are available in (4) configurations. The most common is an Internal Design (T01) where the chains are embedded completely inside the chain driven rollers effective width. A very similar version is available with External Chains (T02) whereby the chain strands project slightly outside the chain roller conveyors effective width. This design can be advantageous when container bottoms need extra support through close transitions to adjoin equipment.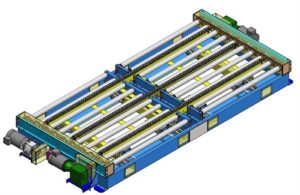 Another common variation is the Load/ Unload Station Design (T05), where by the chains project outside the chain roller conveyor and allow for a platform position for either loading or unloading of product.
And finally the Cross Lane Design (T12) is used to convey pallets across parallel lanes of chain driven live roller conveyors.
LEWCO offers a quality product that is cost effective and built to the highest industry standards. Reduction in manual material handling, improved product flow, better ergonomics and elimination of shipping damage are just some of the benefits of a well-designed LEWCO conveyor system.
LEWCO has an extensive amount of experience designing and manufacturing Conveyor Equipment. Our highly knowledgeable staff of Application Engineers can help assess your application and recommend cost effective solutions. You can email your requirements to conveyorsales@lewcoinc.com, call (419) 625-4014 ext.4003, or request a quote on our website.