LEWCO Pallet Stacking, Destacking, and Dispensing
Pallet stackers/de-stackers provide an automatic method of dispensing or accumulating empty pallets into or removed from a conveyor system. LEWCOrecently added an economical stacker/destacker to its pallet handling conveyor product line.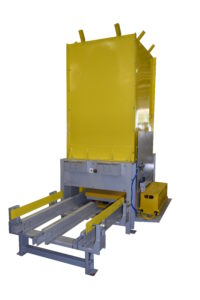 Fixed Pallet Size
In addition, LEWCO continues to make the variable pallet size stacker/destacker.With this design, settings can be adjusted to accommodate various pallet heights and widths, should your needs change over time. It can be used to stack or destackcontainers, totes, or bins as well.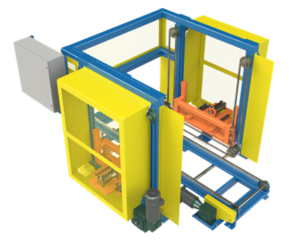 Variable Pallet Size
These stacker/destackers are just some examples of the products LEWCO has to offer for a wide variety of applications. LEWCO Application Engineers can help you determine what equipment best fits your application, so we can exceed your expectations too!
LEWCO offers a quality product that is cost effective and built to the highest industry standards. Reduction in manual material handling, improved product flow, better ergonomics and elimination of shipping damage are just some of the benefits of a well-designed LEWCO conveyor system.

LEWCO has an extensive amount of experience designing and manufacturing Conveyor Equipment. Our highly knowledgeable staff of Application Engineers can help assess your application and recommend cost effective solutions. You can email your requirements to conveyorsales@lewcoinc.com, call (419) 625-4014 ext.4003, or request a quote on our website.