LEWCO Honored with Business Excellence Award
SANDUSKY, OH – The Erie County Economic Development Corporation (ECEDC) held its annual meeting and economic development awards ceremony on May 19th at Castaway Bay, Sandusky, Ohio.
Executive Director, Abbey Bemis, presented on the progress within Erie County over the last year.  Ms. Bemis stated that businesses in Erie County invested $92M. into facilities in 2014. These investments are having an impact as Erie County was also ranked 16th among all US small cities in "recession busting" last year (Area Development Magazine).
Vice President, Dr. William K. Balzer, presented updates on ECEDC's current economic development programs and highlighted the future initiatives ECEDC will launch to add value to the business community and residents, including establishing and reinforcing Erie County's image as business friendly and pro-growth, coordinating efforts with resource providers and expanding activities to conduct a business attraction campaign.
In his keynote address, Mr. Matt A. Ouimet, CEO and President of Cedar Fair Management, Inc., highlighted the new leadership and enhanced cooperation across Erie County. Ouimet advocated that a regional perspective and collaboration will ensure projects, decisions, and investment move forward and that our area's resurgence will continue for decades to come. "Our job today is to make this area better for our children." Ouimet said.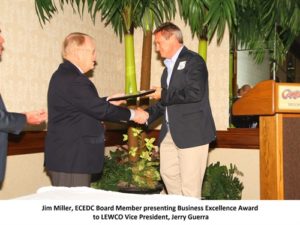 LEWCO, Inc. was honored as a recipient of the "Business Excellence Award." According to a statement from ECEDC, "The Business Excellence Award recognizes companies or organizations that provide world class services or products, are committed to growing in Erie County, and make up a critical segment of our community.  Since established in 1917, LEWCO, Inc. has consistently looked at ways to improve itself and pivot towards new opportunities.  Just last year, they were able to position their products to serve the country's growing ecommerce industry. LEWCO conveyors are now being utilized in large scale distribution centers across the country, and the company has increased its employment from 120 to 150 employees, adding positions across the company in skilled trades, engineering, and supply chain management."
Other awards included the "Business Pioneer Award," awarded to Vine & Olive, a local specialty foods store; and the "Visionary Leadership Award," awarded to Dr. William K. Balzer, Dean of Bowling Green State University Firelands.
LEWCO congratulates the other honorees for their achievements and offers a special thanks to ECEDEC for their valuable service to the community.
ECEDC is an independent economic development organization in Erie County, Ohio that develops county-wide economic development programs to attract, expand, and retain quality jobs and investment in the area. For more information, please visitwww.eriecountyedc.org