1912 Gravity with Air Lifts
LEWCO manufactures 1.9" diameter 12ga wall gravity roller conveyors ideal for applications that require an economical, non-powered means for conveying material. The 1912 roller in this conveyor is a sturdy roller that is a step up in robustness compared to a 1916 roller (16ga wall).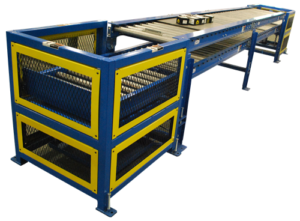 For vertical lifts of more than a few inches, LEWCO designed a pneumatic lift to cost-effectively raise and lower the load. The carriage is guided in linear bearings to maintain stability, and the pneumatic controls can be fine-tuned as needed for smooth operation.
Simple in concept and elegant in execution, this small gravity over-under loop features non-powered anti-backup and anti-falloff stops. The customer preferred a gravity conveyor for this process due to the short length and variety of operations performed on each product. Pneumatic lifts at each end take the empty pallets to and from the sloped lower return line. Roller beds on the lifts are articulated to perfectly match the return line slope, resulting in a very smooth and quiet operation.
LEWCO offers a quality product that is cost effective and built to the highest industry standards. Reduction in manual material handling, improved product flow, better ergonomics and elimination of shipping damage are just some of the benefits of a well-designed LEWCO conveyor system.
LEWCO has an extensive amount of experience designing and manufacturing Conveyor Equipment. Our highly knowledgeable staff of Application Engineers can help assess your application and recommend cost effective solutions. You can email your requirements to conveyorsales@lewcoinc.com, call (419) 625-4014 ext.4003, or request a quote on our website.