LEWCO has extensive experience designing and manufacturing equipment  for

etail 

-commerce 

istribution industries. Our highly knowledgeable staff of Application Engineers limits your risk by assessing your application with you and then recommending a cost effective solution.

 products are generally used to convey light products such as cartons, totes, or parcel packages up to 75 pounds, whichever the case LEWCO offers a full line of conveying equipment to complete your system.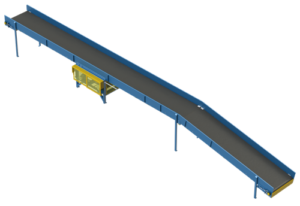 System Features
• Poly-V
• Product Transfer
• Zero-Pressure Accumulation
• Powered Belt Conveyors
• Gravity Flow Lanes
What LEWCO

 Conveyor Equipment can do for you…
LEWCO INC. offers a quality product that is cost effective and built to the highest industry standards. Reduction in manual material handling, improved product flow, better ergonomics and elimination of shipping damage are just some of the benefits of a well-designed Distribution System.
How it works…

• Low Pressure Accumulation

• Zero Pressure Accumulation

• Sortation of Products

• Multiple Units with Single Drive

• Slave Driven Curves and Transfers

Where it works…

• Warehousing & Distribution

• Manufacturing

• Order Fulfillment

• Automotive

• Parcel Handling

     Benefits…         

• Easy and Fast Installation

• Clean and Safe

• Economical Transportation

• Quiet

• Energy Efficient

• Automated Production

• Continuous Operation

• Increased Productivity

• Increased Worker Safety

• Reduced Man Hours
Our Products…
LEWCO Conveyor products are built to order based on your specifications. This approach allows us to provide equipment that is exactly as needed with short lead times. Many models can qualify for our quick ship program. By leading the conveyor industry in "built to order" equipment, we are able to offer a wide range of sizes and options. This allows us to offer, as our standard product, what our competitors would consider special equipment.