Line Shaft Zero Pressure Accumulation Conveyor
Zero Pressure Line Shaft Conveyor or LSZP19 is an excellent choice for everyday package handling. LEWCO's Zero Pressure Line Shaft Conveyor is an upgraded version of our standard line shaft conveyor. Its medium duty construction is well suited for providing accumulation of light to medium loads with no back pressure.
LEWCO's Zero Pressure Line Shaft Conveyor offers many benefits. In large part it has the ability to stop and accumulate product without product or person contact. Another benefit is that it allows for the development of an automatic queue system allowing for sortation, wrapping, packing, etc. Finally, LEWCO's Zone Control Logic allows for easy set up of cascade or slug release mode.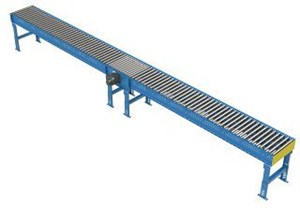 LEWCO offers a quality product that is cost effective and built to the highest industry standards. Reduction in manual material handling, improved product flow, better ergonomics and elimination of shipping damage are just some of the benefits of a well-designed LEWCO conveyor system.
LEWCO has an extensive amount of experience designing and manufacturing Conveyor Equipment. Our highly knowledgeable staff of Application Engineers can help assess your application and recommend cost effective solutions. You can email your requirements to conveyorsales@lewcoinc.com, call (419) 625-4014 ext.4003, or request a quote on our website.