Line Shaft Driven Live Roller Conveyor
LEWCO's Line Shaft Conveyor is an excellent choice for every day, automated package handling systems. Its clean, simple design is well suited for totes, cartons and parcel packages. LEWCO's Line Shaft options allow you to fully customize your conveyor lines. Standard features include: Curves, Zero-Pressure Accumulation Zones, Assisted Hinge Gates, Spurs, Transfers, as well as multiple conveyors with one motor.
LEWCO's Line Shaft Conveyor System offers many advantages in every day handling. Line Shaft's ability to run multiple components on a single drive provides a very efficient conveying system, with savings in both energy consumption and changeovers. Secondly, its composite O-belt design holds the rollers in place, reducing the amount of noise, which in turn creates a very quiet system. Another advantage to Line Shaft Conveyor is the ability for Zero-Pressure Accumulation without contact between products, using the same motor that powers curves and transfers.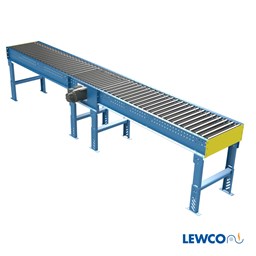 LEWCO offers a quality product that is cost effective and built to the highest industry standards. Reduction in manual material handling, improved product flow, better ergonomics and elimination of shipping damage are just some of the benefits of a well-designed LEWCO conveyor system.
LEWCO has an extensive amount of experience designing and manufacturing Conveyor Equipment. Our highly knowledgeable staff of Application Engineers can help assess your application and recommend cost effective solutions. You can email your requirements to conveyorsales@lewcoinc.com, call (419) 625-4014 ext.4003, or request a quote on our website.