Line Shaft Curve Conveyor
Line Shaft Curve Conveyor or LSTRC197 is a Live Roller Curve Conveyor that allows product to negotiate a horizontal change of direction at 30, 45, 60, 90, or 180 degrees. This allows the product to maintain leading edge orientation on the conveyor, in lieu of a transfer. Curves can be combined to create an "S" turn by adding a crossover drive module.
Generally used in light and medium duty applications, the tapered rollers in LEWCO's Line Shaft Curve Conveyor help maintain product orientation through the curve.  LEWCO's Line Shaft Curve may be self powered, or slave driven from the connected straight conveyor. This allows for multiple components to be connected together, and creates an extremely efficient conveyor system by reducing the number of drives.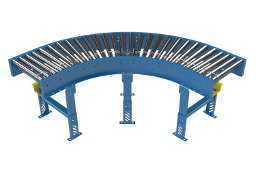 LEWCO offers a quality product that is cost effective and built to the highest industry standards. Reduction in manual material handling, improved product flow, better ergonomics and elimination of shipping damage are just some of the benefits of a well-designed LEWCO conveyor system.
LEWCO has an extensive amount of experience designing and manufacturing Conveyor Equipment. Our highly knowledgeable staff of Application Engineers can help assess your application and recommend cost effective solutions. You can email your requirements to conveyorsales@lewcoinc.com, call (419) 625-4014 ext.4003, or request a quote on our website.